Introduction
In today's fast-paced world, where technology has transformed the way we connect and build relationships, online dating platforms have become a popular way for individuals to find their perfect match. Among the myriad of dating websites and apps available, JDate.com stands out as a niche platform that caters specifically to Jewish singles. Founded in 1997, JDate has been instrumental in helping Jewish individuals around the world meet and form meaningful connections. This article delves into the history, features, and success stories of JDate.com, shedding light on how it continues to be a beacon of hope for Jewish singles looking for love and companionship.
A Brief History of JDate
JDate.com, short for Jewish Date, was launched by Alon Carmel and Joe Shapira in 1997. The founders aimed to create a platform where Jewish singles could connect, with the hope of facilitating lasting relationships within the Jewish community. Their vision was to use the internet as a tool to bring together Jewish individuals who might not have otherwise crossed paths in their daily lives.
From its inception, JDate.com has been focused on providing a safe and welcoming space for Jewish singles to explore romantic connections. The platform's success is evident in its growth and the numerous success stories of couples who met through the site.
Features and User Experience
JDate.com offers a range of features that make it a popular choice among Jewish singles:
Profile Creation: Users can create detailed profiles, providing information about themselves, their interests, and what they are looking for in a partner. This helps to match individuals based on compatibility.
Advanced Search: JDate.com provides a robust search feature that allows users to filter potential matches based on various criteria, such as age, location, religious affiliation, and more.
Messaging and Communication: Members can communicate with potential matches through messaging, which is a crucial aspect of online dating. Premium members enjoy enhanced messaging features, such as read receipts and the ability to initiate conversations.
Events and Activities: JDate.com also hosts events and activities, both online and offline, where members can meet and interact with fellow Jewish singles. These events range from virtual wine tastings to in-person speed dating events.
Jewish Identity: JDate.com recognizes the importance of Jewish identity and allows users to specify their level of religious observance, such as Reform, Conservative, Orthodox, or secular. This helps ensure that matches share similar values and beliefs.
Mobile App: JDate offers a mobile app for on-the-go dating, making it convenient for users to stay connected and find potential matches anytime, anywhere.
Our Partners: AsianDate.com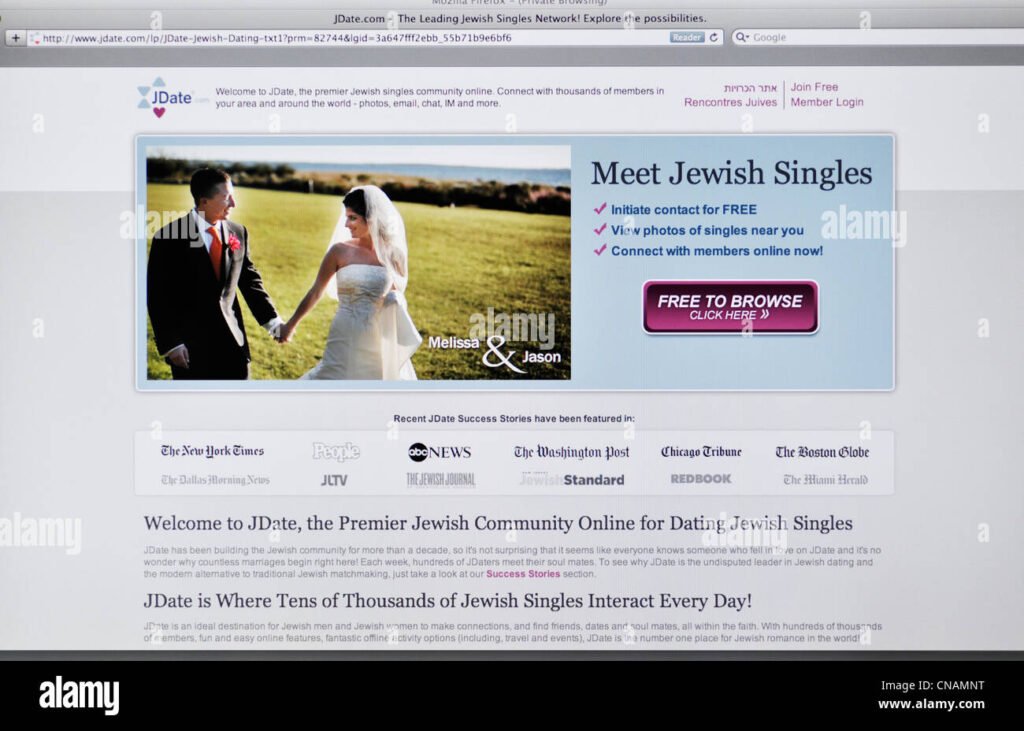 Success Stories
JDate.com has played a significant role in bringing Jewish singles together, resulting in countless success stories. Here are a few heartwarming examples of couples who found love through the platform:
Sarah and David: Sarah and David, both residents of New York City, met on JDate.com. They connected over their shared love for Jewish culture and food. After several months of dating, they got married in a traditional Jewish ceremony and now have two children.
Rachel and Daniel: Rachel, a graphic designer from Los Angeles, and Daniel, an attorney from Chicago, initially bonded over their love for travel and adventure. Despite the distance, they maintained a long-distance relationship before ultimately deciding to move in together and plan a future.
Rebecca and Michael: Rebecca and Michael, both in their mid-40s, were looking for a second chance at love after going through divorces. They met on JDate.com and found solace in each other's company. Today, they are happily married and blending their families together.
Our Partners: Looking for a Partner for the End of the World
The Impact of JDate.com
Beyond individual success stories, JDate.com has had a broader impact on the Jewish community and the world of online dating:
Fostering Jewish Connections: JDate.com has been instrumental in fostering connections within the Jewish community, helping individuals find partners who share their cultural and religious values.
Diverse Membership: JDate.com has a diverse membership base, including Jewish singles from different backgrounds, beliefs, and walks of life. This diversity ensures that there is a wide range of potential matches for users to connect with.
Long-Term Relationships: JDate.com's focus on compatibility and shared values has led to many long-term relationships, marriages, and even the formation of Jewish families.
Social Impact: The platform's events and activities promote social interaction and community building among Jewish singles, both online and offline.
Challenges and Criticisms
While JDate.com has been a successful platform for many Jewish singles, it has not been without its challenges and criticisms:
Subscription Fees: JDate.com requires a subscription for full access to its features, which can be a barrier for some users. However, the subscription model helps maintain the quality of the platform and ensure the seriousness of its members.
Competition: JDate.com faces competition from mainstream dating apps and websites, which can make it challenging to stand out in a crowded market.
Inclusivity: Some critics argue that JDate.com's focus on Jewish identity may exclude potential matches who do not adhere to Jewish traditions or beliefs.
Read More: Japan Cupid
Conclusion
JDate.com has established itself as a prominent and enduring platform for Jewish singles seeking meaningful relationships within their community. With its commitment to providing a safe and welcoming space for Jewish individuals to connect, JDate.com has helped countless couples find love and build lasting partnerships. Beyond its success stories, the platform has had a broader impact on the Jewish community by fostering connections, promoting cultural identity, and facilitating the growth of Jewish families. As technology continues to shape the way we date and form relationships, JDate.com remains a valuable resource for Jewish singles looking to find their soulmate in the digital age.