Introduction
In an age where the digital realm plays a pivotal role in connecting people worldwide, social networking platforms have become an integral part of our lives. One such platform that has gained popularity in recent years is Twoo. With its unique approach to online social discovery and communication, Twoo has amassed a significant user base. In this article, we will delve deep into what Twoo is, its features, its history, and how it has positioned itself in the competitive world of social networking.
Chapter 1: What is Twoo?
Twoo is a social discovery platform that was launched in 2011 by Massive Media, a Belgian company known for creating innovative online communities. Twoo is designed to help people meet new friends, make connections, and even find romantic partners. It combines elements of social networking, online dating, and matchmaking to create a unique and versatile user experience.
Twoo's primary objective is to connect people based on shared interests, location, and other relevant criteria. Unlike some dating apps that focus solely on romantic relationships, Twoo caters to a broader spectrum of social interactions, including friendship and networking.
Our Partners: FlirtWith.com
Chapter 2: Features of Twoo
Twoo offers a variety of features that make it a versatile platform for social discovery. Here are some of its key features:
Profiles: Users can create detailed profiles with information about themselves, including their interests, hobbies, and relationship status.
Discover: Twoo's "Discover" feature allows users to browse through profiles and connect with people who share their interests or live nearby. This feature uses algorithms to suggest potential matches based on user preferences.
Search: Users can search for other members using specific criteria such as age, location, and gender.
Messaging: Twoo provides a messaging system that enables users to send text messages and multimedia content to each other. This is essential for establishing and maintaining connections.
Likes: Users can express interest in other members by sending them "Likes," which can lead to mutual connections.
Boost: Twoo offers a premium feature called "Boost" that increases a user's visibility and profile views, making it easier to connect with others.
Games: Twoo includes entertaining games like "Encounters" that users can play to discover potential matches. It adds a fun element to the platform.
Live Video: Twoo has introduced a live video feature that allows users to interact with others in real-time, enhancing the overall social experience.
Safety and Moderation: Twoo employs measures to ensure a safe and respectful environment for its users. This includes reporting and moderation tools to deal with inappropriate content and behavior.
Our Partners: Platonic Love – What is it and How to Fight it?
Chapter 3: The History of Twoo
Twoo's journey began in 2011 when Lorenz Bogaert and Toon Coppens, the founders of Massive Media, decided to launch a platform that would focus on social discovery. They envisioned a space where people could connect with others who shared their interests and values. With this vision in mind, Twoo was officially launched.
The platform gained traction quickly, especially in Europe, and attracted millions of users within a short period. In 2012, just a year after its launch, Twoo was acquired by the social discovery platform Meetic Group, which was later acquired by Match Group. These acquisitions helped Twoo expand its user base and reach a global audience.
Over the years, Twoo continued to evolve its features and user experience. It introduced premium features like Boost and expanded its reach to more countries. The platform also integrated with other Match Group products to offer a seamless experience for users interested in dating and social discovery.
Chapter 4: Twoo's Position in the Social Networking Landscape
Twoo occupies a unique space in the world of social networking. While it shares similarities with dating apps and websites, it differentiates itself by focusing on social discovery as a whole. This positioning has allowed Twoo to appeal to a broad audience, including those seeking friendships, networking opportunities, and romantic relationships.
One of Twoo's strengths is its global presence. With users from various countries and cultures, it provides a diverse and multicultural environment for connecting with people from around the world. This global reach sets it apart from many regional or country-specific social networking platforms.
Twoo's commitment to safety and moderation is another factor that contributes to its positive reputation. By implementing measures to combat harassment and inappropriate content, Twoo has created a welcoming atmosphere for users of all ages.
The introduction of live video streaming also keeps Twoo in line with the latest trends in social media. This feature allows users to interact in real time, fostering deeper connections and more engaging conversations.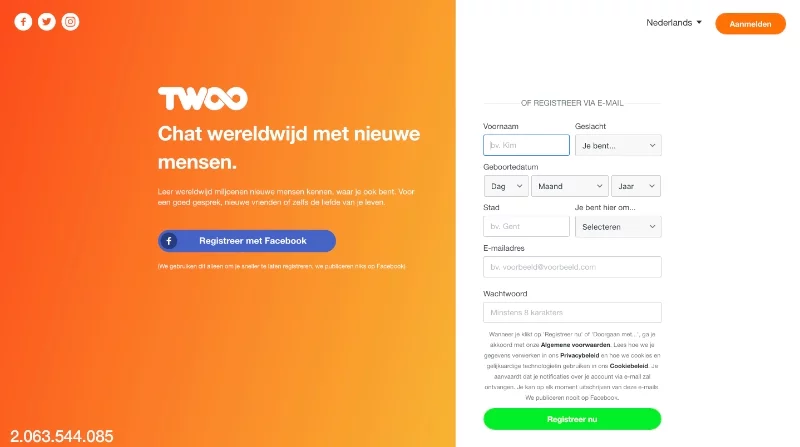 Chapter 5: Twoo's Impact on Online Social Discovery
Twoo has made a significant impact on the way people approach online social discovery. Its emphasis on genuine connections and shared interests has resonated with users seeking meaningful interactions beyond swiping left or right based solely on appearance.
By combining the best elements of social networking and online dating, Twoo has provided a platform where users can explore a wide range of relationships, from casual friendships to romantic partnerships. This versatility has allowed Twoo to adapt to the changing needs and preferences of its users.
Twoo's success has also influenced the evolution of other social discovery platforms. Many have started to incorporate features and concepts similar to Twoo's, recognizing the value of connecting users based on common interests rather than just physical attraction.
Read More: Get It On
Chapter 6: Conclusion
In conclusion, Twoo has established itself as a unique and influential player in the world of online social discovery. With its diverse user base, comprehensive features, and commitment to safety, Twoo continues to connect people from all walks of life, fostering meaningful relationships and enriching the social networking landscape.
Whether you're looking for new friends, networking opportunities, or even a romantic partner, Twoo offers a versatile platform to meet your needs. As the digital world continues to evolve, Twoo's commitment to authentic connections positions it as a relevant and valuable resource in the ever-expanding realm of online social discovery.