Introduction
In the digital age, where swiping right and left has become the norm in the dating world, Coffee Meets Bagel (CMB) stands out as a refreshing and innovative approach to online dating. Founded in 2012 by three sisters, Arum, Dawoon, and Soo Kang, Coffee Meets Bagel has grown into a thriving dating app that prioritizes quality over quantity. With its unique algorithm and emphasis on meaningful connections, CMB has carved a niche for itself in the competitive world of online dating. In this article, we will take a closer look at Coffee Meets Bagel, its origins, key features, and how it has transformed the dating landscape.
The Founding Story
The journey of Coffee Meets Bagel began with the Kang sisters, who shared a vision of creating a dating app that addressed some of the common issues they had experienced with other platforms. Frustrated by the superficial nature of many dating apps and the overwhelming barrage of matches and messages, they aimed to provide users with a more curated and purposeful dating experience.
The name "Coffee Meets Bagel" is derived from the idea of quality over quantity, where the "coffee" represents the potential matches, and the "bagel" symbolizes the carefully curated selection of those matches. This clever concept would go on to shape the core philosophy of the app.
Our Partners: RussianBrides.com
How Coffee Meets Bagel Works
Daily Matches: Unlike apps where you can endlessly swipe through profiles, Coffee Meets Bagel takes a different approach. Users receive a limited number of daily matches, typically around 6 to 21, based on their preferences and the algorithm's recommendations. This limitation is intentional, designed to encourage users to focus on each potential match.
The Icebreaker: Once a match is made, both users are presented with an icebreaker question, encouraging them to start a conversation in a meaningful way. This helps break the ice and fosters more thoughtful interactions compared to simple "Hi" or "Hey."
Time-Limited Chat: To prevent matches from languishing without conversation, Coffee Meets Bagel introduces a seven-day chat limit. If both users don't engage in conversation within a week, the chat expires, and the match is lost. This feature encourages active communication and discourages ghosting.
Bean Currency: Coffee Meets Bagel uses a virtual currency called "Beans," which can be earned through various activities like logging in daily or referring friends. Users can spend Beans to access premium features, such as "Open Sesame" (revealing mutual friends) or "Mirror Mirror" (seeing how they compare to others in terms of attractiveness).
Discover Section: Apart from the daily matches, users can explore additional profiles in the "Discover" section. This allows for a bit of extra flexibility, but the main focus remains on the daily curated matches.
Safety and Privacy: The app prioritizes user safety, with features like reporting and blocking users who engage in inappropriate behavior. Additionally, personal information is kept private, and mutual friends can be used as a reference point for added security.
Our Partners: Behavioural Psychologists on Why We Should Make Choices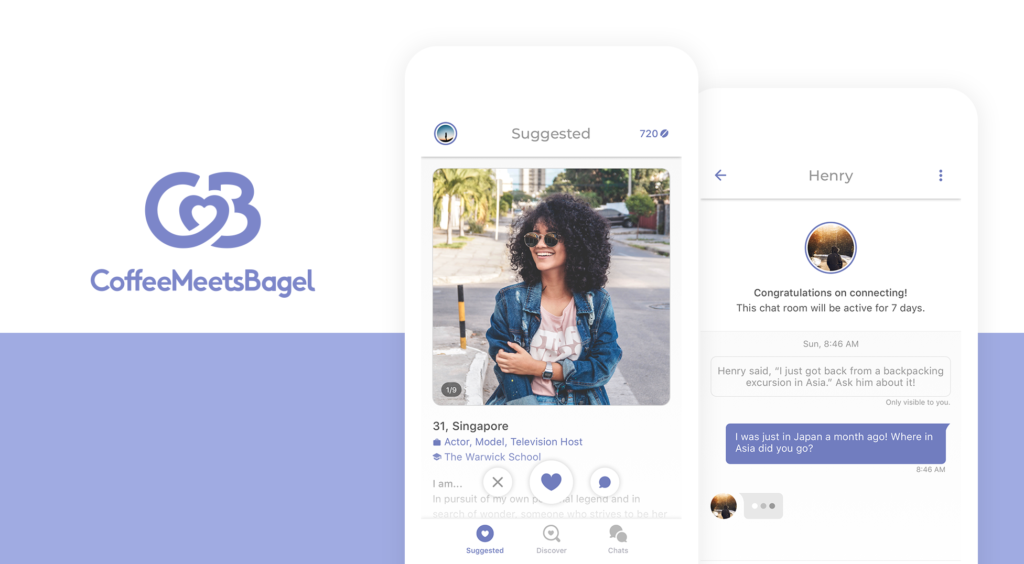 Coffee Meets Bagel's Unique Features
#LadiesChoice: In a bid to empower women in the dating process, Coffee Meets Bagel initially showed women their daily matches, allowing them to choose who to engage with. This feature, known as #LadiesChoice, aimed to create a more comfortable and respectful environment.
Photo Lab: Coffee Meets Bagel's "Photo Lab" is a feature that allows users to crowdsource feedback on their profile photos. By submitting two photos for comparison, users can ask the community to vote on which one they prefer. This feature helps users select the best representation of themselves.
CMB Premium: For those seeking additional perks and an enhanced experience, CMB offers a premium subscription. Subscribers gain access to features like Activity Reports (seeing if your matches have read your messages), Read Receipts, and the ability to take back a "like" or a "pass."
CMB for Business: Coffee Meets Bagel has expanded its offerings beyond traditional dating. It introduced "CMB for Business," a service that connects users with potential professional connections or mentors, recognizing that meaningful connections can extend beyond romantic relationships.
Video Chat: In response to the changing dynamics of dating during the COVID-19 pandemic, Coffee Meets Bagel introduced a video chat feature to facilitate virtual dates and maintain the connection between users.
The Impact of Coffee Meets Bagel
Coffee Meets Bagel has achieved significant success and made a positive impact on the online dating scene. Here are some key aspects of its influence:
Quality Over Quantity: By providing a limited number of daily matches, Coffee Meets Bagel encourages users to focus on each potential connection, leading to more meaningful interactions and less superficiality.
Reducing Ghosting: The time-limited chat feature and daily match expiration have been effective in reducing ghosting, a common issue on many dating apps. This promotes active and respectful communication.
Empowering Women: The #LadiesChoice feature puts women in control, allowing them to choose who they want to engage with. This has created a more comfortable and balanced environment for both men and women.
Personalization: The app's algorithm continually learns from user preferences and behavior, providing increasingly personalized matches over time. This enhances the chances of users finding compatible partners.
Safety and Privacy: Coffee Meets Bagel's commitment to user safety and privacy has made it a trusted platform for those seeking genuine connections.
Expanding Horizons: Beyond traditional dating, Coffee Meets Bagel's "CMB for Business" opens up new avenues for users to network and connect professionally, acknowledging that meaningful relationships can transcend romantic boundaries.
Challenges and Future Prospects
While Coffee Meets Bagel has undoubtedly made a mark in the world of online dating, it faces ongoing challenges and opportunities for growth. Some of these include:
Competition: The online dating industry is highly competitive, with many established players and new entrants. To stay relevant, Coffee Meets Bagel must continue to innovate and adapt.
User Engagement: Maintaining user engagement and preventing churn remains a challenge. Keeping users active on the platform, especially after the initial excitement, is crucial for long-term success.
Global Expansion: While Coffee Meets Bagel has a presence in several countries, further global expansion could be a potential avenue for growth.
Evolution of Features: The dating landscape is continually evolving. Coffee Meets Bagel must stay abreast of changing trends and user preferences to remain competitive.
Read More: ChristianMingle.com
Conclusion
Coffee Meets Bagel's innovative approach to online dating has redefined the way people seek meaningful connections in a world dominated by swipes and superficiality. Through its curated daily matches, thoughtful icebreakers, and commitment to user safety, CMB has created a unique space where quality triumphs over quantity.
As the dating app continues to evolve and adapt to the ever-changing landscape of online romance, it remains dedicated to its founding principles of providing a more purposeful and enjoyable dating experience. Whether you're seeking a romantic partner or a professional connection, Coffee Meets Bagel offers a fresh perspective on what online dating can be – a platform that values quality, respect, and genuine connections above all else.